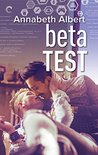 Beta Test by Annabeth Albert
My rating: 3 of 5 stars
This interracial New Adult M/M romance was so low-angst I kept forgetting what the conflict was. Maybe, it was because there were a lot of different external conflicts but nothing too big that could have been a deal-breaker. The romance was sweet, the characters were likable, but the novel overall didn't excite me.
Ravi, who moved to LA to get away from his Asian Indian traditional family, is fashionable, confident, and out and proud. He lives his own life and volunteers for an AIDS charity. Tristan has low self-esteem and allows his mother to control his dating and love life and has pledged to be "discreet" for the sake of his mother's political career. The novel points out that though opposites attract the couple find common ground in having disapproving and conservative families. Ravi and Tristan are financially independent, young professional millennials. They don't seem to be worried about student loan debt, and it's not clear how much financial help Tristan receives from his parents. Both benefit from class privilege, went to the best colleges in California, and have well-paying jobs that they can afford not to have roommates in trendy LA districts.
So, there really isn't much holding them back from being true to themselves except their fears and insecurities. Tristan didn't seem to have much to lose and didn't express any grief when he finally defied his parents. Meanwhile, Ravi's conflict with his conservative mother and grandmother was easily deflated because the novel didn't show Ravi's interaction with them in public. It was as if Ravi's ethnicity didn't matter in the end except to portray Tristan as being sympathetic to a person of color. For instance, when Ravi is racially profiled as a Muslim terrorist by some ignorant old white guy, Tristan is affronted, but Ravi's reaction was rather blasé.
The novel works best as erotica, because the sex acts were written well. However, the lovers' spats and lovemaking were at times overladen with heavy emotional metaphors that felt out of place with the low-angst tone of the novel. It has enemies to lovers, forbidden love, and coming of age themes, and somewhat non-vanilla sex with D/s kink, topping from the bottom, and a lot of dirty talk. Ravi is the perfect, dominant, ethnic, fantasy lover, while Tristan is the sweet innocent. Though the story was interesting, I just wasn't feeling it. I personally wanted to see a more authentic portrayal of Ravi's ethnic background and how it complicates issues of identity for a gay person of color, but then, that would have made this a different kind of novel.
*ARC received from NetGalley in exchange for an honest review.